Welcome to this site, launched in November 2017, which acknowledges the 499 persons listed on the World War One Roll of Honour at the Soldiers' Memorial Institute, Pall Mall, Bendigo who paid the ultimate sacrifice in World War One.
As from November 2019, the site also acknowledges those persons from Bendigo who gave their lives in the following conflicts; Boer War -9, World War Two -235, Korea -1, and Vietnam -6. Details are available from the Other Conflicts tab.
The loss of so many people deeply affected their families and the community. 
---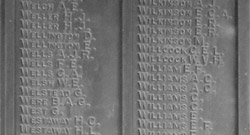 Lest we forget